Thinking of giving your loved one birthstone jewelry? Here is a list of birthstones:

January - Garnet
February - Light Purple Amethyst
March - Blue/Green Aquamarine
April - Diamond
May - Emerald
June - Pearl
July - Ruby
August - Light Green Peridot
September - Blue Sapphire
October - Multi-Color Opal
November - Golden Topaz
December - Turquoise or Blue Zircon
Birthday Gift Ideas

Birthday Gift Ideas
by: Jagath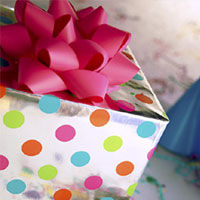 Be it children or grown-ups, birthday gifts bring boundless joy to individuals in both the categories. Everyone looks forward to opening his or her birthday gifts. There must have been occasions when you were gifted something which took your breath away. Reason: the gift was so unique; something you had not expected to receive at all. Remember, how pleased you were with the person who had given you the gift. You too can give a pleasant surprise to people whom you care about by going in for online shopping. When you shop online, a variety of gifts can be looked into in great detail at the click of the mouse. Your gift can add so much more to the birthday celebrations of your loved ones. Here are a few tips that may help you decide.
It is always better to give personal items as birthday gifts rather than decorative pieces and kitchen appliances. There is nothing wrong with them per se. It is just that kitchenware and wall hangings can be gifted on so many other occasions like wedding anniversaries, Christmas and New Year.


Personalized items are a rage today. What is so special about it is that any item that you would like to gift can be personalized. Right from pillows to golf balls, you can get them branded with the name of the person whom you want to give the gift. You can also personalize gift-wrappings and boxes.


Gift baskets make good birthday gifts. Mainly because a gift basket can be an assortment of a number of items. Readymade gift baskets are available in plenty. However, you can make your very own basket and pile in all the items of your as well as their liking.


Greeting cards and flowers can accompany your gift to make it all the more special. They can't be deemed as gifts. They are primarily used to greet or wish a person well.


Gifts for her can include jewelry and jewelry boxes, perfumes, scented candles, bags of all shapes and textures, soft toys (especially cuddly teddy bears), wristwatch, make-up kit, cosmetics and evening wear.


Gifts for him can include electronic goods, sporting goods, musical instruments apart from clothing, wristwatch and perfume.


Children can be given chocolate boxes, candy bar packets, game sets and CDs and all kinds of sporting goods, toys and clothing.


Books are perfect gift birthday gifts for people of all ages. However, they should be selected keeping in mind the age and preference of the person concerned.


To stand out, make sure your gift is wrapped in a classy yet attractive manner.


Make sure the gifts items you select for babies do not have any sharp edges.